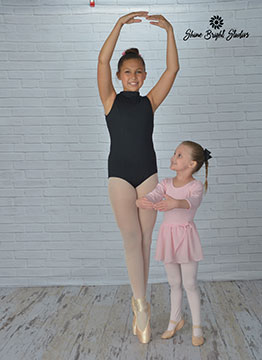 Ballet Class at Kick offers classical Ballet training in a warm and supportive atmosphere.  Our Ballet School's  method follows a sequence of training intended to develop our student's technical skills, stamina and discipline.  We work hard to emphasize correct placement in order to prevent injury. Our curriculum embraces traditional ballet principles and incorporates elements of the French, Italian and Russian training systems. These methods help to provide a healthy and enjoyable learning environment and allow the students to experience a feeling of mastery in each level. It is a style that readily adapts to meet the demands of any choreographer, any company, and any style of movement.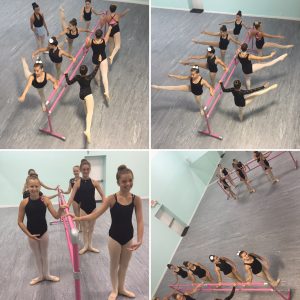 Princess Ballet – Classical Ballet Training for our youngest dancers!  Our Ballet classes teach technical skills though imagery and imagination.  Benefits to this class include self esteem, creativity, gross and fine motor skills, flexibility, coordination, balance, cooperation and teamwork skills that last a lifetime.
Ballet 1 – The goal of Ballet Class Level 1 is to impart the fundamentals of classical ballet. Class will focus on basic ballet technique, proper body alignment, French terminology and musicality. Students will be introduced to elementary barre and center work
Pearl Ballet – Continuing the development of Ballet Class 1, Pearl Ballet  focuses on positions of the arms, direction of the body and increased movement vocabulary.
Sapphire Ballet – Sapphire Ballet focuses on proper extension of the legs and shape of the feet, developing movement sequences, port de bras and balance. Students will see an increase in difficulty in barre and center work. Students begin focus on repetition and retention.
Emerald Ballet – Advanced stretching and strengthening exercises are given, barre work is continued with a greater emphasis on vocabulary and French terminology. Musicality continues to be emphasized along with balance and coordination through the strengthening of the body core. Continued focus is placed on the positions of the arms, legs and feet using classical ballet vocabulary.
Ruby Ballet Class – Continued advanced exercises plus  focus on  pirouettes, use of the head and upper body, fluidity of port de bras as well as the intricacies of small and large jumps.
Pre Pro Ballet – The advanced levels challenges the student with more complex combinations at the barre and in the center. The student will work on fluidity of movement, balance, and combinations.
Pre-pointe- This class is dedicated to teaching pointe fundamentals to students of the appropriate age and technical ability. Because of the risk of injury, students must be physically ready so one complete dance year of pre-pointe and a pointe evaluation is required before advancement to pointe class. The pointe evaluation allows teachers and students the opportunity to see where the student needs work in order to prepare for pointe. The evaluation focuses on legs (straightness and strength), feet (flexibility, strength, alignment, and shape), ankles (strength and straightness), and overall body alignment.
Pointe – Dancing on pointe requires strength and skill, so prior permission from instructor is required before students begin taking pointe classes. Two ballet classes are required along with pointe class.