Lyrical/Contemporary
Contemporary Dance is a fusion of interpretive movement incorporating ballet, jazz, lyrical, and modern technique. There are no limits for choreography and expression in a contemporary class. Enjoy developing technique and exploring what is possible for dancers in this popular style.
Dress: Black leotard and jazz pants or tights. Foot undies for Lyrical/Contemporary (available at Kick). Shorts permitted with tights. Hair must be securely pulled back.


Ballet
Our unique syllabus is based on a progression of exercises from the barre to the center, preparing the body for technique that develops good placement, proper breathing, co-ordination, strength, grace, and musicality. Traditional ballet training is the foundation for all great dancing. Ballet at Kick is instructed at a quick pace to keep our dancers moving and focused. Enjoy learning the classical repertoire and discovering the magic of Ballet.
Dress: A black leotard (no layering) and tights in pink, black, tan, or white. Dancers under six may also wear light blue or lavender. Pink ballet shoes with sewn elastics are required. Legwarmers and skirts are acceptable. Shorts are not permitted in any ballet class at Kick. Please wear hair in a secure bun.
The Ballet program at Kick follows a graded curriculum based on sound teaching practices, respect for the Ballet tradition and vocabulary. Each level is developed as a building block to advance a student's training in a safe and nurturing way. Foundations are instructed in a loving and inspiring environment for all levels from Tiny Stars to our Pre-Pointe and Pointe level Advanced Ballerinas.
Classes are held weekly at the Rumson and Fair Haven studios.
Advanced Ballet Program Ages 7+
The Advanced Ballet program provides next level training for dancers ready to take their training to a higher level. Incorporating Ballet history, intense 4. stretching, terminology, variations, barre and center work, dancers not only learn technique and gain flexibility, but they also understand the knowledge behind everything they do.
Ballet Performing Troupes Ages 6-10 & 10-18
Ballet Performing Troupes teaches young ballerinas how to transfer their hard work in class to the stage. Dancers learn to transition their barre and center work into a classical Ballet piece. Kick Ballet Performance group dancers learn how to tell a story through ballet movement. Our goal is to create a true love for ballet as an art in every dancer. Our performance troupes learn one act ballet in the fall and perform for the community. In the spring, members learn a classical or contemporary piece for competition.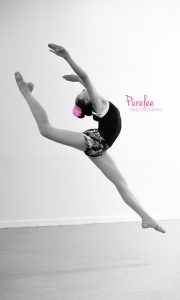 Jazz
Jazz combines many styles and techniques from ethnic and contemporary dance to ballet. Rhythm, upon which all dance forms depend, is particularly integral to jazz dance. The first half of class consists of exercises to stretch and tone muscles and develop strong technical skills. Jazz dance features a wide array of music including oldies, pop, funk, soul and more.
Our Musical Theater classes emphasize character development and storytelling though dance. Original Broadway choreography is instructed from current popular shows.
Dress: A black leotard and jazz pants or tights. Tan slip on Jazz boots required for Jazz and Musical Theater (available at Kick). Shorts are permitted with tights. Hair must be securely pulled back.

Tap
This fun and challenging form of dance promotes a combination of rhythm, timing and coordination. Students develop musicality through various barre, center and cross-floor exercises and routines. We focus on proper techniques, clear taps and appropriate speed.
Fabulous Feet : Our competition tap groups with 3 levels.
Dress: A black leotard and dance pants or tights. Tan Oxford shoes required for ages 10 and up, younger students may wear Mary Jane style. Skirts are allowed. Shorts permitted. Hair must be securely pulled back.

Hip Hop
Kick offers a super high energy, Disney style Hip Hop for boys and girls. Our classes are suitable for all ages/levels while challenging our more experienced students.
Hip Hop Crew: Our Competition Hip Hop Troupe with 3 levels and a boys only group!
Dress: A black leotard and Jazz pants or dance shorts with tights. Kneepads recommended for levels 4 and up. Black dance sneakers are required for level 2 and up and are recommended for level 1. Hair must be securely pulled back.
Acro
Tumble and Flip at Kick Dance Studios
Kick's Acro program is a floor gymnastics class that incorporates tumbling and flexibility. Elements introduced in our level 1 and 2 include cartwheels, back bends, walkovers and chest stands. Students also learn proper stretching technique. More advanced students can expect to work on back walkovers, back handsprings, back tucks, layouts and aerials. All classes use a variety of mats as well as a Tumble Trak to help our students learn in the most effective manner. All Acro classes are led by certified gymnastics coaches and are held in our Rumson studio
Defying Gravity : Our competition acro group with 3 levels.
It's never too late to register at Kick Dance Studios!
It's easy to register from the convenience of your home with our online registration system.