Theater at Kick offers kids ages 5-18 a unique opportunity for top notch training strategically mixed with amazing performance opportunities. Kick produces 3 full scale theater musical a year ans well as 4 cabaret performances. These opportunities combined with expert instruction help develop the skills and talent for advancement in theater. We offer private coaching to give each child the opportunity to work at their own pace and progress in the direction of their dreams.
Holiday Show Featuring Peter Pan!
Spring Musical!
Fridays at 6PM starting 1/5!!
Be in a show! Our musical theater program led by Miss Katie offers amazing opportunities for all kids! Everyone gets a chance to shine in our shows and learn while performing and having so much fun!
Rebellion is nigh in Matilda JR., a gleefully witty ode to the the anarchy of childhood and the power of imagination! This story of a girl who dreams of a better life and the children she inspires will have audiences rooting for the "revolting children" who are out to teach the grown-ups a lesson.
Matilda has astonishing wit, intelligence… and special powers! She's unloved by her cruel parents but impresses her schoolteacher, the highly loveable Miss Honey. Matilda's school life isn't completely smooth sailing, however – the school's mean headmistress, Miss Trunchbull, hates children and just loves thinking up new punishments for those who don't abide by her rules. But Matilda has courage and cleverness in equal amounts, and could be the school pupils' saving grace!
Packed with high-energy dance numbers and catchy songs, Matilda JR. is a joyous girl power romp. Children and adults alike will be thrilled and delighted by the story of the special little girl with an extraordinary imagination.
Our program meets on Fridays 6-7PM for rehearsals and our show is late May!
Theater Classes 2023/24 School Year!
Friday 4:30-5:15PM Musical Theater Vocal (MTV) competition team Advanced
Friday 5:15-6PM Dance for Actors
Friday 6-7 Musical Theater Production
Vocal/Theater Private Lessons!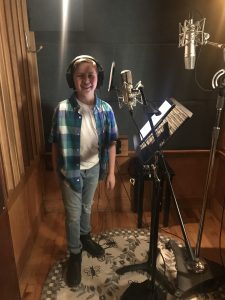 Miss Lauren is available for private vocal, acting and audition prep classes! If you love musical theater, or just want to try singing, our staff provides a warm and supportive setting!! To schedule your private lesson time, email Vanessa@Kickstudio.com