Theater at Kick offers kids ages 5-18 a unique opportunity for top notch training strategically mixed with amazing performance opportunities. Kick produces 3 full scale theater musical a year ans well as 4 cabaret performances. These opportunities combined with expert instruction help develop the skills and talent for advancement in theater. We offer private coaching to give each child the opportunity to work at their own pace and progress in the direction of their dreams.
HolidayMusical!
Fridays at 5:15 starting 9/23!!
Buddy, a young orphan, mistakenly crawls into Santa's bag of gifts and is transported to the North Pole. The would-be elf is raised, unaware that he is actually a human, until his enormous size and poor toy-making abilities cause him to face the truth. With Santa's permission, Buddy embarks on a journey to New York City to find his birth father and discover his true identity. Faced with the harsh reality that his father is on the naughty list and that his half-brother doesn't even believe in Santa, Buddy is determined to win over his new family and help New York remember the true meaning of Christmas.
This modern-day holiday classic is sure to make every young performer embrace his or her "inner elf" with plenty of large ensemble numbers featuring elves and (New Yorkers) of every type. Everyone gets a great chance to shine in our holiday shows – plus our performers learn to use their god given talents to give back to our community. Our holiday shows are also charity events where our students raise funds for local charities. Performance is scheduled for the weekend of December 17/18
Theater Classes 2022/23 School Year!
Tuesday 6:45-7:30PM Dance For Actors
Friday 4:30-5:15PM Musical Theater Vocal (MTV) competition team
Friday 5:15-6:15 Musical Theater Production
Vocal/Theater Private Lessons!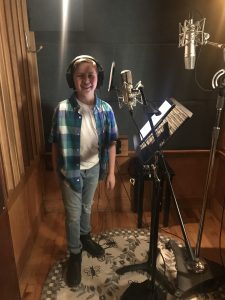 Miss Lauren is available for private vocal, acting and audition prep classes! If you love musical theater, or just want to try singing, our staff provides a warm and supportive setting!! To schedule your private lesson time, email Vanessa@Kickstudio.com