Theater at Kick offers kids ages 5-18 a unique opportunity for top notch training strategically mixed with amazing performance opportunities. Kick produces 3 full scale theater musical a year ans well as 4 cabaret performances. These opportunities combined with expert instruction help develop the skills and talent for advancement in theater. We offer private coaching to give each child the opportunity to work at their own pace and progress in the direction of their dreams.
Winter/Spring Musical!

BE IN A SHOW!! Kick offers a unique opportunity for young dancers, actors and singers to be involved in a musical production. Daily classes in acting, singing and dance round out your child's theater adventure. Our program begins with low-pressure auditions and casting (everybody receives a great part!) and our program culminates with a performance of our musical either in a theater or on our outdoor stage. Our programs are perfect for beginner and experienced performers alike.

Based on one of the most popular Disney movies of all time and the Broadway musical that played for over 2,500 performances and received multiple Olivier and Tony Awards nominations, Disney and Cameron Mackintosh's Mary Poppins is capturing hearts in a whole new way: as a practically perfect Broadway Junior musical!
The jack-of-all trades, Bert, introduces us to England in 1910 and the troubled Banks family. Young Jane and Michael have sent many a nanny packing before Mary Poppins arrives on their doorstep. Using a combination of magic and common sense, she must teach the family members how to value each other again. Mary Poppins takes the children on many magical and memorable adventures, but Jane and Michael aren't the only ones upon whom she has a profound effect. Even grown-ups can learn a lesson or two from the nanny who advises that "Anything can happen if you let it."
Disney and Cameron Mackintosh's Mary Poppins JR. is an enchanting mixture of irresistible story, unforgettable songs and breathtaking dance numbers.
With plenty of parts to go around, including featured roles as well as ensemble parts Mary Poppins Jr is a great experience for all ages!!
Theater Classes 2021/22 School Year!
Tuesday 6:45-7:30PM Dance For Actors
Friday 4:30-5:15PM Musical Theater Vocal (MTV) competition team
Saturday 11:15AM-12PM Acting for Stage and Screen
Vocal/Theater Private Lessons!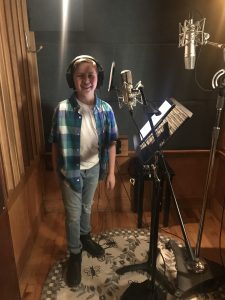 Miss Lauren is available for private vocal, acting and audition prep classes! If you love musical theater, or just want to try singing, our staff provides a warm and supportive setting!! To schedule your private lesson time, email Vanessa@Kickstudio.com