Theater at Kick offers kids ages 5-18 a unique opportunity for top notch training strategically mixed with amazing performance opportunities. Kick produces 3 full scale theater musical a year ans well as 4 cabaret performances. These opportunities combined with expert instruction help develop the skills and talent for advancement in theater. We offer private coaching to give each child the opportunity to work at their own pace and progress in the direction of their dreams.
Winter/SpringMusical!
Fridays at 5:15 starting 1/5!!
Be in a show! Our musical theater program led by Miss Katie offers amazing opportunities for all kids! Everyone gets a chance to shine in our shows and learn while performing and having so much fun!
Beauty is in the eye of the ogre in Shrek The Musical JR., based on the Oscar-winning DreamWorks Animation film and fantastic Broadway musical. It's a "big bright beautiful world" as everyone's favorite ogre, Shrek, leads a cast of fairytale misfits on an adventure to rescue a princess and find true acceptance.
Part romance and part twisted fairy tale, Shrek JR. is an irreverently fun show with a powerful message for the whole family.With abundant opportunities for imaginative sets and costumes, and a host of over-the-top roles for an expandable cast, there's a part for everyone in this dazzling adventure story. Our program meets on Fridays 5:15-6:15 for rehearsals and our show is at the end of May!
Theater Classes 2022/23 School Year!
Friday 4:30-5:15PM Musical Theater Vocal (MTV) competition team
Friday 5:15-6:15 Musical Theater Production
Vocal/Theater Private Lessons!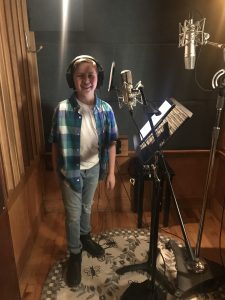 Miss Lauren is available for private vocal, acting and audition prep classes! If you love musical theater, or just want to try singing, our staff provides a warm and supportive setting!! To schedule your private lesson time, email Vanessa@Kickstudio.com