Theater at Kick offers kids ages 5-18 a unique opportunity for top notch training strategically mixed with amazing performance opportunities. Kick produces 3 full scale theater musical a year ans well as 4 cabaret performances. These opportunities combined with expert instruction help develop the skills and talent for advancement in theater. We offer private coaching to give each child the opportunity to work at their own pace and progress in the direction of their dreams.
Show-stopping Musical Theater Camps!
COVID-19 UPDATE – Kick is opening this summer with new safety measures which include extensive cleaning and disinfecting procedures, socially distancing dancers with taped boxes on the floor(we do this anyway – all dancers need space!), and all programs are limited to just 9 participants at this time. Our waiting rooms will be closed (parents can watch on Zoom by request) and we cannot allow any drop ins, makeups or in person trial classes this summer.
July 27-August 7 (Monday-Friday) 9-12:30PM Ages 6-15 $425 (Matilda may be divided into 2 groups of 9 in separate spaces)
Congratulations to our cast of Beauty and the Beast Jr!
Vocal/Theater Private Lessons!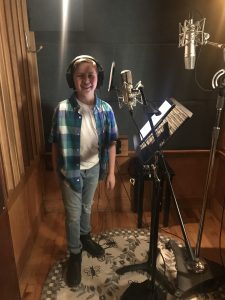 Miss Katie is available for private vocal, acting and audition prep classes! If you love musical theater, or just want to try singing, Miss Katie is the most warm and supportive teacher! To schedule your private lesson time, email Vanessa@Kickstudio.com