Ballerina Princess Dance Camps
Leap, boogie and twirl in our fun-filled Ballerina Princess Dance camps. Our Dance Camps feature dance class, crafts, and a snack. Ballerina Princess Dance camps are held in our Rumson studio.
Monday to Friday, 9:00 a.m.-12:00 p.m. Cost is 275.00 for the week including all supplies and a daily (nut-free) snack.
Petite Princess, Ages 3-6
July 6-10 Frozen 2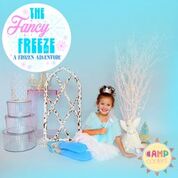 Any dancer who loves Disney's Frozen II will surely not be bothered by the cold in this fun, fancy + frozen dancing journey! The Fancy Freeze: A Frozen Adventure takes tiny dancers on a fanciful expedition into the unexplored through ballet, tap and creative movement. On their way to the annual Fancy Freeze dance party in the frozen forest, dancers will encounter icy dance adventures, wander through Whimsical Windy Woods, and even conquer Polar Peak! Through these challenges, they will keep their sense of adventure but also never stop being fancy! Full of whimsy, wit, adventure, fancy frocks, frozen crafts and more, this camp will crystallize into pure frozen fun!
July 13-17 Sharktacular Shenanigans

Where do sharks go on vacation? Fin-land! But for summer dance camp,baby sharksgo to Sharktacular Shenanigans! Dive into summer on a jawsome jaunt where tiny dancers will groove their way under the sea in this tap, hip hop and creative movement camp. They'll discover a legendary shipwreck holding a bejeweled hidden treasure chest! Their underwater friends will help them search for the prized treasure, and in addition to dancing, they'll create a little fun and mischief along the way! Stella the Stellar Starfish will guide them through the sandy ship with her jellyfish friends to Pearl's "Clam"orous Palazzo Party and Eel-ectric Eel-i's fun 80s Neon Party. And who knows, at the end of the camp, maybe these fintastic friends will lead them to the glistening treasure! Your baby shark will have fun up to the gills with the dancing, antics, fun crafts and more on this sharktacular adventure!
August 10-14 Princesspallooza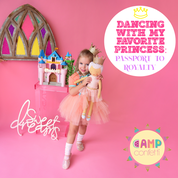 Calling all dancing princesses! Whether your favorite princess travels by air on a magic carpet or swims under the sea with her mermaid tail…lives in an enchanted forest or dwells under a spell in a charmed castle, you don't want to miss this magical dance camp filled with adventure! Bring your favorite princess dollie along with you and, together, travel to meet four V.I.P.s (Very Important Princesses) in their magical castles as you fill your Passport to Royalty with dancing fun! You'll go on a scavenger hunt for sparkly jewels, dance around underwater treasure chests, and create glittering crafts for both you and your princess dollie! This ballet and tap dance camp is the perfect passport offering twice the fun for you and your favorite princess dollie friend!
August 24-28 Fancy Nancy