Fifteen years of tutus and sparkles, competitions and trophies, costumes and choreography. Fifteen years of watching kids make their dreams come true in classrooms every day. Fifteen years of watching hard work pay off. Fifteen years of tiny dancers in big tutus experiencing the first day of dance, then falling in love. Fifteen years of tears at graduation and fingers crossed they come back to visit. Fifteen years of teamwork and friendships that last a lifetime. Fifteen years of dance moms watching their dancers' amazing accomplishments. Fifteen years of entrepreneurship and striving to make the studio the best it can be. Fifteen years of recitals and a year's worth of teaching on display on the Count Basie stage. Fifteen summers full of amazing camps and plans for a bigger, better following season. Fifteen years of sharing the art and passion for dance with countless kids, building confidence with each step. It has been an amazing 15 years and the best is yet to come! Here are 15 reasons we're celebrating this milestone anniversary:
Community Counts. Kick Dance makes giving back to the community a priority, encouraging community outreach and community service from its dancers. This fosters students to become great people, on and off the stage. Each year, the studio chooses a charity to work with, and all proceeds from fundraising efforts support that organization. The studio has worked with StrongMom.org, Project Write Now, National Multiple Sclerosis Society, Monmouth Beach Elementary School, All Fur Love Animal Rescue, and Alex's Lemonade Stand Foundation for Childhood Cancer.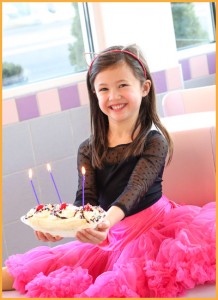 Friendship is Forever. Good friends are irreplaceable. Having someone to love, support and get you through the tough times just makes life easier. For children, making new friends comes much more easily when surrounded by other children who have a similar interest. At Kick Dance Studios, students certainly have one thing in common — DANCE! The friendships made during classes and performances are often lifelong ones, and the bonds created make for strong and fluid performances.
Family is Foundation. Ask any Kick dancer or instructor and they'll tell you their favorite part about being at the studio: FAMILY! Kick Dance Studios is a home away from home for all, and the love and support is obvious just walking in the door. This quote from a Kick dancer sums it all up: "Being at Kick is the best feeling in the world. It's a joy that I don't get at any other place, and when I'm there, I don't want to be anywhere else." – Jessie Boak, 17
Technique and Talent. Being a dancer at Kick is about having tons of fun, but it's also about learning proper technique and form. Kick offers a wide variety of Dance, Acro, Musical Theater, and Vocal classes for all ages and abilities. It is our goal to provide the highest quality training while developing a love for the arts. Kick Dancers hone their skills through practice, then show off what they've learned at recitals and competitions.
Inspiring Instructors. Kick Dance instructors are the heart and soul of what we do. Without them we'd be lost. We have musical theater experts, classically-trained ballet dancers, jazz and tap pros, and even a former Rockette on staff. You can tell these teachers know their stuff, and they have a passion and love for what they do that resonates with each and every student. Their real-life experience translates into life lessons for our dancers.
 Activities Abound. Kick offers so many different classes it will make your head spin… in a good way. Traditional ballet training is the foundation for all great dancing, and at Kick it's taught at a quick pace to keep our dancers moving and focused. There are no limits to choreography and expression in our contemporary classes, which blend ballet, jazz, lyrical and modern techniques. Jazz is all about the rhythm, featuring the sounds of the oldies, pop, funk, soul and more. Tap makes our hearts light and happy, and dancers develop rhythm, coordination and balance. Hip hop is high-energy and suitable for all ages. Acro lets dancers tumble and flip, with cartwheels, back bends, walkovers, chest stands, back handsprings, back tucks, layouts and aerials. Trust us, no one is ever bored at Kick!
Cultivating Confidence. Our dancers go beyond technique to develop important life skills, learning to be respectful, confident and conscientious young people who share their gifts and talents with the community. We focus on both personal development and teamwork to make our dancers the best the can be.
Team Togetherness. We teach dance to make great kids! That's why our team programs are focused on compassion, teamwork, commitment and life skills. Kick's competition team allows dancers with a passion for performing the opportunity to showcase their talents. We've performed at Walt Disney World, ABC TV, Madison Square Garden and many other places! Team Kick has won numerous awards at both the regional and national levels.
 Forget Failure. From failure comes learning, and often success. We teach our dancers to practice and try their hardest, all while having fun and making lifelong friendships. Our dancers support their peers and are there to lift them up when times get tough. It's the Kick Dance way.
 Mentors Matter. Our instructors become mentors for Kick dancers, and that's evident in the passion and heart they put into each and every class they teach. Our mentors are dedicated to serving our students, not only in teaching technique, but guiding dancers through life's challenges and being there, in the good and the bad.
 Overcome Obstacles. Dance is an excellent outlet for young dancers to put life's stress behind them and focus on something positive and affirming. Not only does dance provide many health benefits, such as increased flexibility and muscle strength, it also helps improve mental clarity and lowers stress. The dancers at Kick Dance Studios have incredible dedication and can do anything when they put their minds to it!
 Fostering Fitness. Team sports like soccer, baseball and football keep children in shape and active, but what about when those sports are out of season? Dance provides the ideal activity for children to build strength and stay in shape until they're ready to play ball again. Many professional athletes attest to the benefits of dancing, like 320-pound Pittsburgh Steelers nose tackle Steve McLendon, who has been taking ballet since his senior year of college as a way to keep himself injury-free, and he attributes dance with strengthening his knees, ankles and feet.
Showing Support. When a Kick dancer is down, fellow Kick dancers lift them up and help to rise above any challenge. With supportive students and instructors, Kick dancers can do anything. Students at Kick not only support each other when the going gets tough, they support their community. With so many people in need, Kick is always ready to lend a hand and support the community they so proudly are a part of.
 Models of Modesty. Kick's top priority is that kids will be kids. In a world where children grow up too fast, Kick prides itself on age-appropriate music and costumes. We believe in preserving childhood and that children can learn self-respect and love the skin they are in when allowed to be kids. Our program goes above and beyond to encourage positive body image so children can love who they are and feel free to be themselves. We teach and model modesty, teamwork and positive body image.
 Broadway Bound. Kick teaches dancers to reach for the skies and dream big, that's why dancer's interested in ultimately performing on Broadway's big stage have the opportunity to learn and prepare right in the Kick Dance Studio. We pride ourselves on making our dancers triple threats, because the performer who can sing, dance and act can't be stopped. Kick's acting, vocal and musical theater and performance-based classes provide a supportive, non-competitive atmosphere for young dancers to bloom. Kick dancers have had opportunities to see Broadway shows in preview, as well as get up close and personal with a real-life Rockette. These brushes with Broadway are a great way for our dancers to imagine the endless possibilities dancing provides for themselves.
As Kick Dance Studios celebrates its big 15, we'll be featuring some of our dancers and the personal stories that make them unique. Check out our first dancer profile on Sadie Marino here, and stay tuned for more inspiring dancer stories!
Photos by Purelee Photography
---
Sweet Words From Our Friends on Facebook
Congratulations Vanessa Berry and Kick Dance Studios on 15 great years! We're proud to work with you! Hulafrog: Red Bank, NJ 
It was a privilege to be a part of it! Thank YOU Vanessa!    Polly Wardell 
Happy Dancerversary!  Susie Danzig
Happy anniversary. So happy to be a part of the Kick family! Michelle Tolson 
Congratulations Vanessa!!! You are such a huge inspiration to so many!!!! Alicia Knopps 
Congratulations on 15 Vanessa and family!!! The love of Kick really shines thru from you as well as the teachers and students! Keep up the awesome work! Min Hur Marino 
Congratulations! Our girls love Kick and all the instructors – thank you for providing a fantastic program. Matthew Scoble 
Vanessa, You are my children's mentor, my best friend and our family. I'm amazed that you can juggle some many things at once and always remain smiling and professional. You are an excellent role model and a kind, sweet soul. Elizabeth Dipaolo 
Congratulations!! Wishing you many more years of success! So many great life lessons learned through dance! Cathy White Alescio 
Congratulations! We all love being a part of the Kick family. There is nothing like it. Starr De Angelis 
Congratulations Vanessa! 15 years…wow! My girls and I are thrilled to be part of the Kick family. Nancy Longo Mazzei 
Thank you for giving Cristina and our family many years of love, confidence, talent, fun, and forever friendships. We will never forget how important Kick Dance Studio was to her life. Congrats Vanessa & many more to come. Diane Dafonte 
That is so amazing!! Congratulations!! You gave my daughter the most amazing gift of confidence, how to work for her passion, gift of great friends and gave her a safe and fun place to go and do what she loves most. You are an amazing teacher! You gave her the gift of dance…..truly what you have given her is so priceless…I will be forever grateful for you and for Kick dance studio! Melissa Harris 
Happy Anniversary!! Happy to be part of it for NINE years! Kaitlyn Kurkemelis 
Congratulations, Vanessa- here's to many more wonderful years positively touching children's lives! Samantha Maguire Zaleski 
Holy cow!!! I had the pleasure and privilege to be a part of the Kick family and experience for 7 amazing years before I moved across the country (and the earlier years of the studio! I think 2004-2011?). And not a day goes by where I'm not only proud to see the progress of the studio and dancers here on Facebook, but where I genuinely miss being a part of the excitement and accomplishments of amazing families (you know who you are). Kick will always have a very special place in my heart!! Congrats and cheers to the beginning of 15 more!!   Alyson Christine 
Congratulations Vanessa…. So many of our greatest memories and friendships were created at Kick. Heather Cheney Kaiman 
My girls love being a part of the Kick family! Vanessa you know I have marveled for years at your uncanny ability to find a place for everyone to shine their best! I love that both of my girls have been inspired to try new things because you have believed in them and pushed them! Congratulations on this milestone! Debi Sanfilippo Demcsak 
Congratulations Vanessa! As a parent of a Kick graduate (who began with you when she was in 1st grade & danced with you for 11 years), I want to say THANK YOU for being a wonderful role model and offering a place where youth can dance and move in a positive, developmentally appropriate manner. Here's to 15 more successful years! Liz DeBeer 
Congratulations Vanessa! I wonder if you knew 15 years ago that Kick would become so much more to girls than a place to learn dance. Here's how I would describe it. A community where girls would be able to become who they really were meant to be in an incredibly supportive environment and make true lifelong friends. That's what kick was to Sydney Ringer. I can't even imagine life without it. A big thank you and lots of love! Kristi Bridges 
Congratulations!! What an accomplishment!! Emily loves every minute she is there!!!  Estelle D Ketterer