Support.
 Grace is whole-heartedly into her game of Ms. PacMan at YESTERcades in Red Bank. Her dad Andy is watching, cheering her on. Nothing going on around them breaks their attention away from each other. The two are completely invested in the time they spend together. Grace time is precious time for Andy.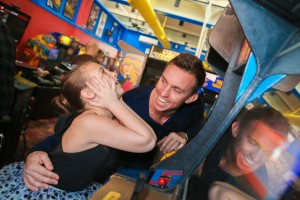 Eight-year-old Grace is a miniature version of Andy, in personality and character. She is the only daughter of Andy and his wife Joanna of Rumson.
"We have very similar personalities," said Andy. "We're both outgoing and openly express ourselves. We talk a lot, and we talk about everything.  We have a good time together no matter what we're doing."
Part of their intense bond comes from their time dancing together. Grace is a dancer at Kick Dance Studio. To say she loves to dance and perform would be an understatement.
"I love making other people happy," said Grace. "I love to perform. I love to sing. I love to dance. I just love to feel the different types of music flow while I dance. It just makes me feel good and happy."
In fact, Grace seems to be most comfortable when she's entertaining family and friends. Putting on a show in her outgoing style.
"I especially love the holidays because it's when all my family gets together and I perform for them," said Grace. "Sometimes I sing, sometimes I dance, sometimes I do both."
Andy and Grace have been dancing together since Grace was a baby, dad dancing daughter around before bed to lull her to sleep. And Andy and Grace are still dancing.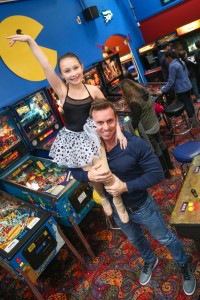 The father-daughter duo is dynamic.  A force to be reckoned with on the dance floor. At the annual Kick Dance recital, daddy-daughter dances are a tradition, and Andy and Grace have participated for years. For the two of them, taking part in that tradition was a no-brainer.
"These dances are something Grace is going to remember," said Andy. "I know by the look on her face that she's happy and for me that's everything."
And it's not just the day of the big dance that Andy and Grace will cherish.
"We just love it," said Andy. "It's not just that moment on the stage, but the time we spend practicing together. It's that little thing you share together, just the two of you."
Each year Andy and Grace take their dance to a new level, with Grace gaining confidence, going for bigger and bolder moves with her dad.
Spending time with Grace is Andy's top priority. He spends three weeks a month on the road for work, so when he's home, he's with Grace.
"We've been buddies from day one," said Andy of the tight bond the two share. "I give her my energy when I'm with her and in turn she gives me back that same energy, always including me in her life."
Grace is at her happiest when she is performing, whether it's on stage for an audience, at Kick Dance with her friends, or at home for her family. On stage, Andy sees a kid who has confidence through the roof. Some of that is innate. Some of that is dance.
"Grace isn't shy," said Andy. "When she was four or five she wanted to do a solo. She wasn't ever scared and had the biggest smile on her face."
And Andy attributes a big part of that confidence to her involvement in Kick Dance.
"Kick has given her challenges to overcome," said Andy. "Those challenges have helped her become more athletic and flexible. Her physical confidence has sky rocketed."
Confidence isn't the only thing that Grace has gained from dancing at Kick.
"She's an only child and it's a great opportunity for her to be around other kids," said Andy. "She's made such great friends by being at Kick Dance."
There's no doubt that Andy is Grace's biggest supporter and cheerleader.
"I'm so proud of her," he said. "I can see how Kick has helped her success now and will help her in the future. These are the character building blocks every kid needs and doing dance all these years has been great for her."
Grace's face lights up when her dad walks into a room, but Andy's lights up even brighter when he sees Grace in her element, dancing, performing and being her outgoing and confident self.
See Grace's outgoing personality in action in this video:
Photos by Purelee Photography