Shrek the Musical!
Shrek the Musical is a one-of-a-kind, hilarious fairy tale in which curses are reversed, monsters get the girls, donkeys and dragons find love, and princesses are beautiful in all shapes and sizes. With fabulous costumes, super talented young actors, high energy dance numbers, and laughs by the minute, Shrek the Musical transforms the contemporary children's book and popular animated feature film into a stage musical that is sure to entertain and make audiences believers in happy endings for all.
Friday May 24th Middletown Arts Center
4:30PM Show is for all ages! and 6PM Show is reserved for ages 8 and up only.
Tickets available here – https://www.eventbrite.com/e/shrek-the-musical-tickets-59342732711
NOW ENROLLING!!
Show-stopping Musical Theater Camp!
Frozen Broadway Jr.
July 22-August 2nd (Monday-Friday) 9-12:30PM Ages 6-15 $399
BE IN A SHOW!! Kick offers a unique opportunity for young dancers, actors and singers to be involved in a musical production. Daily classes in acting, singing and dance round out your child's theater adventure. Our program begins with low-pressure auditions and casting (everybody receives a great part!) and our program culminates with a performance of Frozen the Musical at a professional theater. Our programs are perfect for beginner and experienced performers alike. Cost includes scripts, costumes, sets and all production costs. Performance is on August 2nd. Time is to be determined.

Vocal/Theater Private Lessons!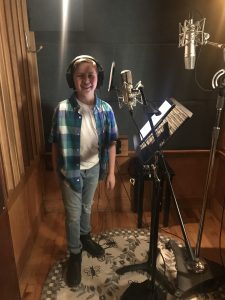 Miss Katie is available for private vocal, acting and audition prep classes! If you love musical theater, or just want to try singing, Miss Katie is the most warm and supportive teacher! To schedule your private lesson time, email Vanessa@Kickstudio.com