Show-stopping Musical Theater Camps!
"Annie Jr." Musical Theater Performance for ages 5-14
July 23-August 3, Monday to Friday, 9 a.m-12:30 p.m., $399.00
BE IN A SHOW!!   Kick offers a unique opportunity for young dancers, actors and singers to be involved in a musical theater production. Daily classes in acting, singing and dance round out your child's theater adventure. Our program begins with low-pressure auditions and casting (everybody receives a great part!) and our program culminates with a performance of the musical at a professional theater. Our programs are perfect for beginner and experienced performers alike. Cost includes scripts, costumes, sets  and all production costs for our Musical Theater performance.

Summer Vocal/Theater Private Lessons!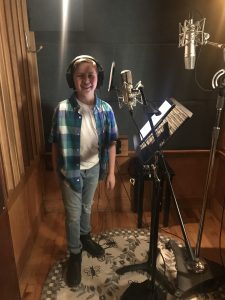 Miss Katie is available Monday afternoons all summer long for private vocal, acting and audition prep classes!  If you love musical theater, or just want to try singing, Miss Katie is the most warm and supportive teacher!  To schedule your private lesson time, email Vanessa@Kickstudio.com
Vocalists don't miss this chance to perform! 
Only 20 spaces available!!  To reserve your space in the KPA Summer Cabaret you can register online under special events (KPA Cabaret is open exclusively to Kick private coaching students)

Fall 2018 Theater Opportunities
Our Holiday production will be announced in Mid July with auditions in late August.  Don't miss your opportunity to be in our full scale theater production!